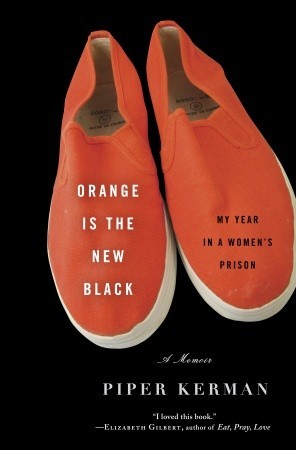 Title: Orange is the new black
Author: Piper Kerman
Length: 298 pages
Genre: Autobiography; Memoir
Format: ePUB
Why I read it: Love the netflix series, so when I found out it was a book, I had to read it.
What it's About: (taken from because I has the dumb and cannot brain.) With a career, a boyfriend, and a loving family, Piper Kerman barely resembles the reckless young woman who delivered a suitcase of drug money ten years before.
But that past has caught up with her.
Convicted and sentenced to fifteen months at the infamous federal correctional facility in Danbury, Connecticut, the well-heeled Smith College alumna is now inmate #11187–424 — one of the millions of people who disappear "down the rabbit hole" of the American penal system.
From her first strip search to her final release, Kerman learns to navigate this strange world with its strictly enforced codes of behavior and arbitrary rules. She meets women from all walks of life, who surprise her with small tokens of generosity, hard words of wisdom, and simple acts of acceptance.
Heartbreaking, hilarious, and at times enraging, Kerman's story offers a rare look into the lives of women in prison—why it is we lock so many away and what happens to them when they're there.
The Review: I though that this book would be just as entertaining as the show. You know, because usually the book is better than the movie/tv adaptation. Unfortunately I was let down. Where the show is entertaining, the book is not. I felt no connection to book Piper and din't care about her. Whereas Show Piper, while not my favorite character is at least interesting. Maybe watching the show first was my mistake. But I had no idea it was based on real life events/people (I guess I don't pay close enough attention during the opening credits). There isn't really any difference between book Piper and show Piper. But they do seem different. The book, as it should, was more about Piper's time and experiences in prison, with little nods or off-the-shoulder mentions of other inmates. Some who are recognizable from the show, and other who are not. But the show, while still about Piper, is not only about Piper. You get to know the other inmates, but not so with the book, and I guess that is where it lost me. Having watched the show first I was allowed to connect with all the characters, but with the book, I got only Piper. I don't know. The comparisons of show vs.book are many, but I don't think it's completely fair. The book was well written, and had it's moments where I was laughing out loud. I'd even have to stop and read passages to my husband (let me tell you, he loves when I do that (not)), and it was a gripping, quick read. But I think that was because I was looking for someone who felt familiar. I do think that the book is doing a great service, and Piper as well with her tours and talks, by showing the truth about women's prisons vs. men's prisons, and how shitty the inmates can and will be treated. And I know that that was really the point of Piper telling her story.
Did I like it? Somewhat
Did I love it? Not really
Would I reread it? Probably not
Would I purchase it? I'm not 100% sure
Would I recommend it? Yes.
Final rating: 3/5