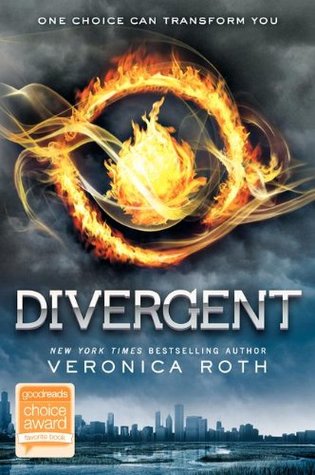 Title: Divergent
Author: Veronica Roth
Length: 487 Pages
Genre: YA, Dystopia
Format: ePUB
Rating: 3/4
Why I read it: Wanted to read it before I saw the movie
What it's About: Once a year, every sixteen year old must take an aptitude test of sorts and from there choose which faction (Abnegation, Amity, Candor, Dauntless, and Erudite) he/she will become part of. It is no different for Beatrice Prior. Except that after her test, she learns that she is part of the dangerous and rare Divergent group.
The Good: I liked Tris. She wasn't bad-ass, as such, but she wouldn't let herself give up, and she looked for answers at any given opportunity. She wasn't afraid to stand up and question things, and when she was she faked otherwise pretty damn well. The story itself, while somewhat predictable was fun. There were definitely some "woah, I did not see that coming" moments, and there were some moments that made me laugh out loud, and cringe. It was an emotional book, but in a good way. I found it fascinating that, Once the new initiates chose a new faction they had to pass, or be factionless. This book made me think and question so much about how their world worked.
The Bad: I would have loved it if Roth had put a bit more history into it. I kept asking myself "how did life get this way,?" and " Why are these people so content to be known by only one trait?" or, most importantly " Why are these people not allowed to have more to them than what their faction dictates?" I find that to be a common problem with the Dystopian genre. Why are people so content to let things get so bad, but unwilling to try to make them better? That is a discussion for another day though. Back to the book. I could have done without the romance. Don't get me wrong, I love a good romance in my stories, but in Divergent, it just seemed so out of place. Tris was really just getting to know herself, she should have been focusing on that, not boys.
Final Thoughts: I'm glad that I read this book. I'm glad that I ignored the negativity that surrounds this book and decided to give it a shot. I don't know when, but I will be reading the next two installments. while the book does have its flaws, it was quite enjoyable, and I hope others who have all the bad hype will give it a chance.