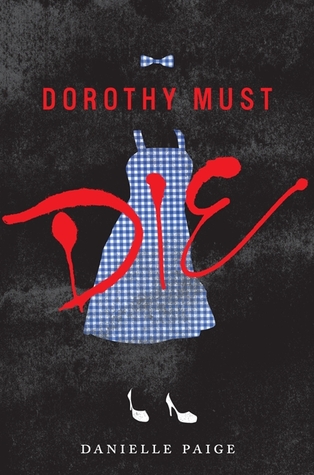 Title: Dorothy must die
Author: Danielle Paige
Length: 452 pages
Genre: YA
Format: ePUB
Rating: 4/5
Why I read it: Seemed intriguing
What it's About: Amy Gumm is swept from Kansas to Oz in a tornado, just like Dorothy Gale from Wizard of Oz. Only Amy's version of Oz is vastly different from Dorothy's, and it's all because Dorothy has become a power hungry tyrant. Now it is up to Amy to save Oz and make it what it once was.
The Good: Since I first heard about this book I was itching to get my hands on it. I love the idea of Dorothy, the Tin man, the scarecrow, and the lion being evil. Amy herself was flawed, and rough around the edges, but I loved her. I also loved the fact that Paige wasn't afraid to be gory. I love dystopian Oz.
The Bad: The lack of information. I know it's the first book in the series, but I was hoping that as the book progressed, there would be more back story as to HOW exactly Dorothy became a corrupt power-hungry tyrant, and how the Beloved sidekicks became what they did. I'm hoping the second book explains a bit more.
Final Thoughts: I loved this concept. I do think that it could have been a great one off book instead of a series, but I also love that it there is going to be another book. Paige has the potential to build on something that is already good, and make it even better.